Developed with state-of-the-art technology, the design team created the MEATER for the home cook, pitmaster, or pro chef to make overcooked meats a thing of the past.
"For Your BBQ"
Smoker, Grill, Kamado, or Rotisserie
Long lasting for overnight smokes
Kettle, ceramic and gas grill ready
Truly wireless for the rotisserie
"For Your Kitchen"
Oven, Pan, Range, or Sous Vide
For baking, roasting and slow cooks
Perfect for cast iron skillets
Great for immersion circulators
Description
MEATER was the first truly wireless smart meat thermometer and along with the MEATER app, it will help you cook the juiciest steak, chicken, turkey, fish or other meats perfectly every time for every occasion.
This same awesome smart meat thermometer, the "PLUS" has extended wireless range so you get more freedom from your bbq, smoker, or kitchen!
 Features: 
Built-in Bluetooth repeater in the charger extends the wireless range up to 50m.
100% Wire-Free: No wires. No fuss. The first truly wireless smart meat thermometer.
2 Sensors, 1 Probe: Dual temperature sensors can monitor internal meat temperature and ambient.
Guided Cook System: Walks you through every step of the cooking process to guarantee perfect and consistent results.
Advanced Estimator Algorithm: Estimates how long to cook and rest your food to help plan your meal and manage your time.
Connectivity Suite: Monitor your cook from a phone or tablet over Bluetooth. Extend your wireless range using MEATER Link WiFi and the MEATER Cloud.
Technical Data:
Probe Specs
Bluetooth LE 4.0 wireless connection
Maximum internal temperature: 100°C (meat)
Maximum ambient temperature: 275°C (cooker)
Stainless steel and ceramic construction
Water resistant and easy to clean
Dishwasher safe
Rechargeable: Over 24 hours of continuous cooking
Dimensions: 130mm length and 6mm diameter
Charger Specs
Built-in Bluetooth repeater extends range up to 50m
Store and charge your MEATER probe
Magnetic backing: Attach anywhere
Charges MEATER up to 100 times with one AAA battery
Real wood to match any kitchen or outdoor decor
LED indicator to show battery state
Dimensions: 157mm L x 37mm W x 28mm H
App Requirement
iPhone and iPad apps for iOS 10.3 and later
Android app for versions 5.0 and later
Key features of the MEATER Plus include:
MEATER Cloud
Monitor your cook anywhere you have internet plus more!
Connect to Amazon Alexa
Share your cooks & track in real-time on a Windows or Mac web browser
Advanced technical support and customer service
No Wires & No Fuss
Cut the cord with MEATER! All the electronics are inside the MEATER probe, eliminating the need for any wires; perfect for rotisseries and enclosed cooking appliances
.
Dual Sensors
Measures both the internal meat temperature (within +/- 0.5°C) and the temperature close to the food.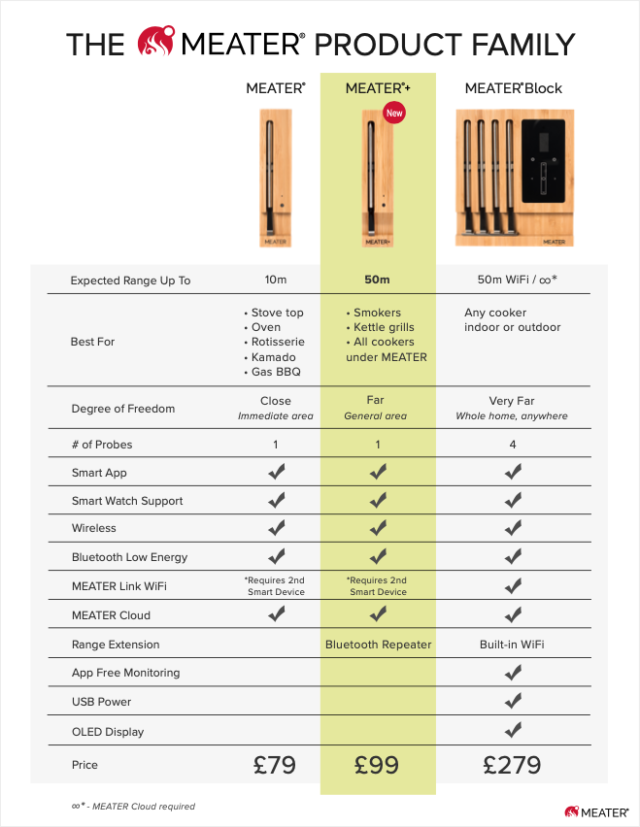 In stock